Review: M for Mississippi
Posted on: Saturday, Nov 8, 2008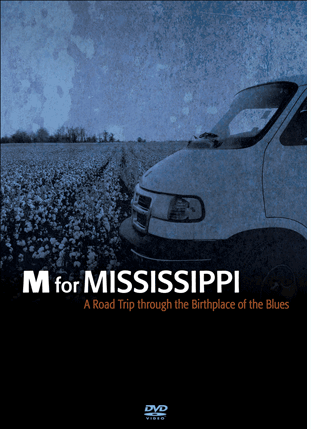 M FOR MISSISSIPPI – A Road Trip through the Birthplace of the Blues
The DVD M for Mississippi was released on Saturday October 11th at a packed first public showing at the Delta cinema in Clarksdale in Mississippi.
It was the brainchild of two enthusiastic young men Roger Stolle of Cathead Delta Blues and Folk Art and Music Store in Clarksdale and Jeff Konkel of Broke and Hungry Records of St Louis both of whom are firmly committed to the maintenance of the raw rural blues still surviving in the Mississippi Delta.
It is based on a weeklong journey that the two men made in the Delta earlier this year with musician and sound recorder Bill Abel and film maker Damian Blaylock trying to capture "the real deal" blues in the juke joints, the front yards, house parties and cotton fields with all the sounds, sites and images.
The film opens with an amusing take on how to make a film set to Big George Brock's song M for Mississippi and then introduces Mr Tater, the Music Maker a local Clarksdale resident and celebrity more than a regular musician whose main proclamation is that he doesn't like George W Bush!
Day 1 continues with Terry "Harmonica" Bean at Ground Zero Blues Club and Wesley Jefferson at the Stovall Plantation where he used to work, following on to a gig at The Doo Drop Inn juke joint in Shelby.
Day 2 saw the crew move to Como to interview guitarist RL Boyce at a house party at his home complete with some local characters and Steve "Lightning " Malcolm joins him on guitar and drums.
The next day sees the crew move south to the town of Leland, home of Pat Thomas, son of late bluesman James "Son" Thomas. Like his father, Pat is also an artist and sculptor of interesting collectable pieces of work.
Down the road in nearby Greenville, one of the real characters of the area, James "T Model" Ford is interviewed at his home. Often quite cantancerous, "T" served time on the chain gang at the notorious Mississippi State Penitentiary, Parchman Farm, for murder and he talks of the hatred he had for his father who used to beat him and his mother. He is joined on drums by his 10 year old son Stud on the recorded track.
Day 4 introduces us to The Mississippi Marvel thus named to protect his identity. This is due to the conflict he has with playing blues music and his role as deacon of his local church. His identity is thus a sworn secret but his CD is now available on Jeff Konkel's Broke and Hungry label.
Moving on to Bentonia the crew then visit one of the legendary juke joints of the Delta, The Blue Front Cafe and its owner Jimmy "Duck" Holmes, probably the last exponent of the Bentonia style of blues made popular by Skip James and Jack Owens.
The crew then move on to Renova the next day to meet 82 year old harp player Cadillac John who performs regularly with Bill Abel, before moving back to Clarksdale and to Sarah's Kitchen juke joint to meet the eccentric Robert "Bilbo" Walker who has modelled himself on Chuck Berry but was prevented from performing any of his songs for the film by Berry's attorneys – a rather unnecessary gesture.
The final two days were spent at Clarksdale juke joint, Red's Lounge to meet the lovely gentleman Robert Belfour and then to the home of 80 year old LC Ulmer in the town of Taylor. A fine musician who makes the point that Elijah actually sang the blues in The Bible – I'm not sure how well that point would be accepted in some blues circles!!
It is worth noting that the out takes and edited portions of the film are also very amusing and entertaining.
All in all, this DVD is a first class documentary on what is actually happening today in the Mississippi Delta and I hope it will encourage any blues fan to actually make this sort of trip.  Congratulations must be offered to the producers for their excellent work – in time this film will a memorable document of a sadly diminishing era.
To purchase the DVD contact :- www.mformississippi.com
Also check www.cathead.biz and www.brokeandhungryrecords.com
PETE EVANS