Review: FreeWorld – "From The Bluff"
Posted on: Saturday, Dec 6, 2008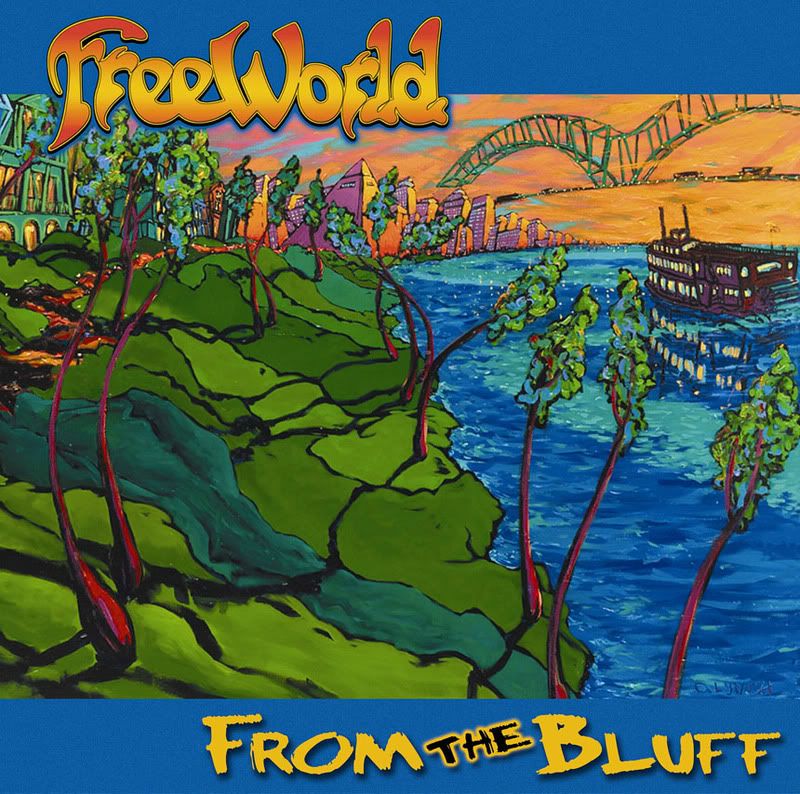 FreeWorld
"From The Bluff"
(Swirldisc – SD 78453 630)
Here's another treat, courtesy of Betsie Brown at Blind Raccoon in Memphis – the fifth full-length release from the city's FreeWorld – described as "new school meets old school" and "the best of Memphis, New Orleans and San Francisco – all rolled into one fresh and excitingly unique musical experience!" In layman's terms a most appealing mix of jazz, funk and rock, all beautifully played and produced.
The band have been evolving since 1987 and the current core is: Richard Cushing (lead & backing vocals, bass, sitar, shaker), Dr. Herman Green (tenor saxophone and vocal), David Skypeck (drums), Brian Overstreet (guitars), E. J. Dyce (lead and backing vocals, trumpet, maracas) and Captain Phil McGee (alto and tenor saxophone) – together with a host of special guest, most noticeably producer Jim Dickinson's sons, the North Mississippi Allstars Luther Dickinson and Cody Dickinson.
The uptempo, sunny "Keep Smilin'" opens proceedings, with punchy horns and great solo from Brian Overstreet, whose guitar is very impressive throughout; followed by a dip into James Brown funk territory on "Give It Back". The gently rocking "Time On The Mountain" follows, again great horns and another to feature the guitar of Overstreet – a new name to me, but a truly great player.
The title cut "Down On The Buff" sees a guest vocal from the soulful Harold "Sundance" Thomas – as the band extol the Mississippi river as it rolls through their home town – nice slide guitar here from Luther Dickinson. The instrumental "Samurai" rides along on a nice funky, jazzy groove, with lovely saxophone solo from Art Edmaiston.
The 78 years old jazz saxophone legend, Dr. Herman Green – who has performed and recorded with the likes of Miles Davis, John Coltrane, BB King and Lionel Hampton, to name but a few – gets the spotlight on "Spinning Around", as Richard Cushing tells the story of the FreeWorld from 1987 in song, with a tenor saxophone solo that dips into Coltrane territory – very fine indeed!
Overstreet catches fire again on "Monkey Suit" with some revved up wah-wah work, while the swampy rock of "Simmer Down" sees the band in a Louisana groove – that almost could be Lynyrd Skynyrd meets Tony Joe White – and yet another killer guitar solo.
This fine release – beautifully produced by aforementioned Memphis legend Jim Dickinson – ends with the bonus cut of "Save Our Soul" – a horn-driven Memphis soul number, with another guest vocal, this time from the great James Govan – a fitting tribute to the soul heritage of the city of Memphis – it even sounds as if it could have been cut 40 years ago!
GRAHAME RHODES
Comments Off

on Review: FreeWorld – "From The Bluff"