Review: Jack Bruce and Robin Trower – Seven Moons Live
Posted on: Tuesday, Sep 15, 2009
JACK BRUCE & ROBIN TROWER (with Gary Husband)
"Seven Moons Live"
(Ruf Records: RUF 1151)
Two titans of rock and blues, former Cream bass player, the legendary Jack Bruce, and guitar master Robin Trower first recorded in 1981 and 1982, but fans had to wait until last year for the "Seven Moons" studio album. In February of this year they announced live dates, and here, on only the third gig in Nijmegen, Holland, comes a virtually complete live version . . . with three Cream classics for good measure.
In the company of the excellent drummer, Gary Husband (Level 42, Gary Moore, John McLaughlin) the trio lay down a set of mesmeric funky and psychedelic bluesy grooves, powered by Bruce's dynamic throbbing bass lines and Trower's tasteful guitar work . . . shades of Hendrix as ever, but his power certainly not diminished from his 1970s' heyday. Jack Bruce's voice may not quite be the force it once was, but is still most appealing and he sounds to be having a ball.
The band are down to business with the title cut of "Seven Moons", followed by "Lives Of Clay" and a superb "Distant Places Of The Heart", with some quiet beautiful shimmering guitar from Robin Trower. Cream's "Sunshine Of Your Love", forever associated with Bruce's classic bassline and Eric Clapton's riff is given an understated reading, with a dip back to 1981's "BLT" album for the dreamy "Carmen" . . . featuring one of Bruce's best vocals on the album.
Elsewhere, the funky blues of "Perfect Place" rides on a nice groove from Trower's wah-wah pedal, and more blues in "Bad Case Of Celebrity", with more classic Trower soloing – as with most cuts here, short and precise and very tasteful. "The Last Door" is driven by Husband's powerful drumming . . . and indeed he is excellent throughout.
The icing on the cake for the enthusiastic and appreciative Dutch crowd comes at the very end . . . the pairing of "White Room" and "Politician" from the Cream days . . . two storming versions and a joyous end to a fine album. Highly recommended for all lovers of classic rock and blues . . . and now also available on dvd.
GRAHAME RHODES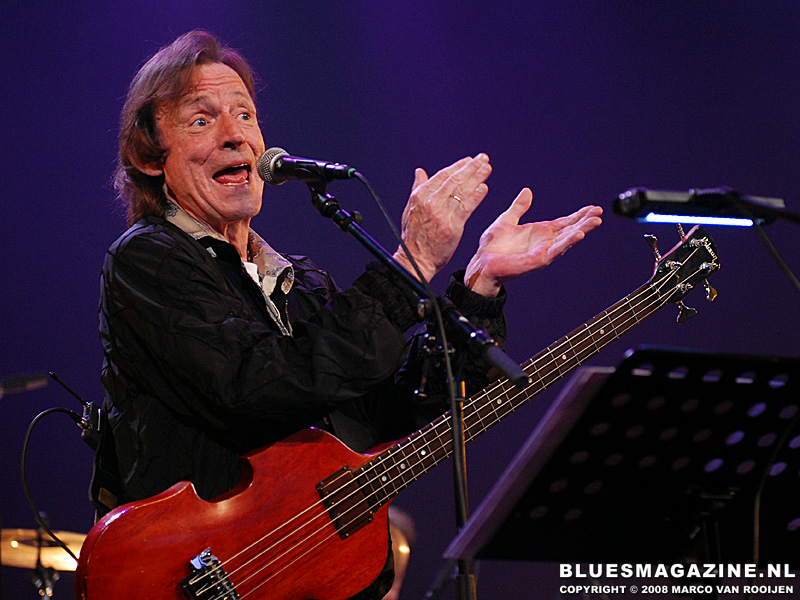 Comments Off

on Review: Jack Bruce and Robin Trower – Seven Moons Live