Review: The Aces – No One Rides For Free
Posted on: Friday, Nov 13, 2009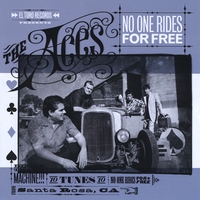 THE ACES
"No One Rides For Free"
(El Toro Records: ETCD 6044)
Hands down, this is simply the best pure blues album I've heard this year – the explosive sound of The Aces, hailing from Santa Rosa, California, but finding a home for "No One Rides For Free" on the small Spanish label, El Toro Records, based at Pineda, near Barcelona.
It's probably the rawest, most energetic blues since the late, great Lester Butler and his band, The Red Devils, burst out of LA in the early 1990s' – The Aces work on some of the same templates – blasting harmonica, down home guitar and the same driving rhythms, but with The Aces powered by low-tuned second guitar as opposed to a conventional bass player.
The band comprise the imposing figure of Sky O'Banion on lead vocals and harmonica, Derek Irving (lead guitar and sitar) and Mike Gutsch (drums), with the rhythm guitar work shared on the ten tracks between Bob Welsh and Chris Anderson – together they create an intense wall of sound that grabs you from the start and doesn't let go!
The opening "You're Gonna Lose" shows what they are all about – a fabulous harmonica intro before the band lock into a killer groove, before O'Banion's tough vocals kick in – often through his harmonica microphone, and biting guitar solo from Derek Irving, a player definitely from the "less is more" school, delivering traditional guitar lines.
The pace is kept up on the following "Stole Something From Me", leading into the menacing "Shed Some Light On Me" – very Red Devils for me, with Sky O'Banion's vocal almost sounding like a demented preacher – superb stuff indeed!
"Knee Deep In Mud" slows things down a little – a sort of lazy shuffle that highlights Mike Gutsch's drumming, before the Sonny Boy Williamson-flavoured "Drinkin Song", with O'Bannion's acoustic harmonica work giving it that classic feel. The slide-driven "Need Your Lovin'" sees the band take the tempo up again, before the stomping "Down In The Cave", which sees Derek Irving on electric sitar.
Elsewhere "Mr Highway Man" rides on an almost funky guitar groove with more tremendous harmonica; "House On The Hill" is another killer fast shuffle – the guitars on this are just tremendous – with the closing "Kanka Kanka" being in the same vein, with salvos of just dynamite harmonica work.
Make no mistake, from the opening of track one to the close of track ten, this is just superb stuff – let's hope the boys make it over to the UK next year some time – whether it be festivals or clubs, you just know they will be the real deal – a five star recommendation from me!
GRAHAME RHODES
Available at rootscd.com amongst others.
Comments Off

on Review: The Aces – No One Rides For Free