Gig: DeanJohnson – Liverpool Acoustic Blues Lounge – 04 Dec 2009
Posted on: Wednesday, Nov 25, 2009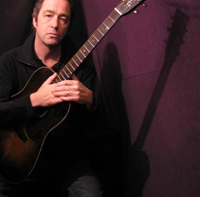 Liverpool Acoustic Blues Lounge
View Two Gallery, Mathew Street
Friday, December 4th
Merseyside's great singer/songwriter Dean Johnson is the special guest at the Liverpool Acoustic Blues Lounge at View Two Gallery, Mathew Street, on Friday, December 4th.
Dean can usually be seen on nationwide tours opening for the likes of Paul Carrack, Bill Wyman's Rhythm Kings, John Martyn and Level 42.
He hardly ever plays on home ground, and this will be a rare chance to catch him in the intimate setting of the View Two Gallery – one of the best rooms for acoustic music in the north-west.
Dean's fame has just gone 'global' after the phenomenal response to the song Silence Is Its Own Reply – originally a fragment written by Beatle George Harrison which Dean has now completed.
Dean will be doing his bluesist set for us, plus the George Harrison song of course. And Raphael from Blue C will add blues harmonica here and there.
That's Blue C and Dean Johnson at Liverpool Acoustic Blues Lounge, View Two Gallery, Mathew Street, Friday, December 4th, doors 8pm, music 8.30pm, admission £5.
A busy night is expected so be on time for a seat!