Review: Toby Walker – Lost and Found
Posted on: Tuesday, Dec 15, 2009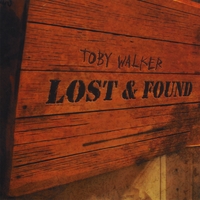 TOBY WALKER
"Lost & Found"
Here's a delightful 15-track gem from frequent and popular North West visitor, US acoustic bluesman Toby Walker – a sort of 'official' bootleg, from "Toby's Boogie Woogie", recorded back in 1991, through to "I Know You Rider", from last year.
The tracks were recorded at a variety of venues, mainly in his native land, but with some from his first ever trip to England in 2003 – all beautifully played, demonstrating his fluid guitar style and superb fingerpicking, with added musicians on some of the cuts.
The first eight recordings hail from various radio sessions on WUSB in Stony Brook, NY, with Ken 'The Rocket' Korb adding some nice harmonica – standouts being the opening "Toby's Boogie Woogie" and Charley Patton's "Bird Nest Bound – respectively from 1991 and 1993. The traditional "You Didn't Want Me" sees Walker in a splendid Lightnin' Hopkins groove, with him turning to slide on Bukka White's oft-covered "Jitterbug Swing".
The three tracks from his first trip to our shores were captured by Geoff Henne on a hand-held digital recorder – and capture an enthusiastic audience and artiste, with some marvellous guitar work on the instrumental "Swing Bean", some deep blues on "Phonograph Blues", with some saucy lyrics; and a sprightly "Who's Gonna Be Your Sweet Man", with more fine picking.
Elsewhere, a track from a house concert in Plainview, NY, sees a cover of the Rodney Law/Hank Thompson song "He's Got A Way With Women", followed by Willie Dixon's "Spoonful", recorded at a theatre gig in Riverhead, NY – with George Christ on harmonica and Mike DeGeronimo on snare drum.
For performances which as Walker says were tossed into a box with the thought one day he might get around to listening to them, this is fine stuff indeed, and as the man says, "I think that they are among some of the finest performances I've ever done" . . . . recommendation indeed!
GRAHAME RHODES
NB: For the purposes of the review I have referred to Walker as Toby Walker, as on the cd cover, although live-wise he performs as Little Toby Walker.