Review: Jimmie Vaughan – Plays Blues, Ballads and Favorites
Posted on: Friday, Jul 16, 2010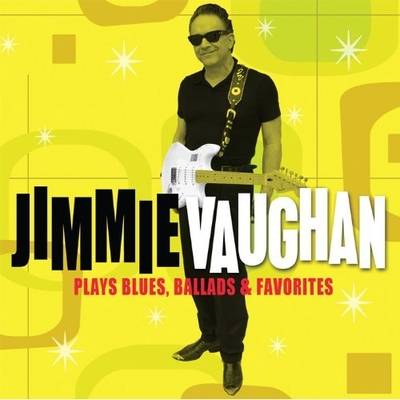 JIMMIE VAUGHAN
"Plays Blues, Ballads & Favorites"
(Proper Records – PRPCD062)
With only four solo outings in some 16 years, Texas guitar legend and ex-Fabulous Thunderbird member, Jimmie Vaughan, has hardly been prolific, but it's a pleasure to report his latest offering, "Plays Blues, Ballads & Favorites" does exactly what it 'says on the can' . . . a generous 15 tracks of great covers and one original. Vaughan's cool vocals and guitar are on top form, and he is surrounded by many of the great players who have been involved in his music for years.
Here he has surrounded  himself with much of the band from the fairly recent collaboration with Kent 'Omar' Dykes on the "Jimmy Reed Highway" album, including fellow Austin-based vocalist Lou Ann Barton, who contributes her soulful voice to some six tracks, not to mention the veteran duo of the great George Rains on drums, and Bill Willis on Hammond B3 organ.
The album gets off to a rollicking start on Billy 'The Kid' Emerson's "The Pleasure's All Mine", a r&b stomper punctuated by the saxophone's of Greg Picollo and Kas Kasenoff and trademark, short and to-the-point Vaughan solo. A 'doff of the cap' is next to Jimmy Reed on his downhome "Come Love", with Lou Ann Barton sharing the vocal and some very authentic harmonica work from Jimmie Vaughan himself! Don Harris and Dewey Terry's soulful classic "I'm Leaving It Up To You" is an album highlight, with the afore-mentioned horns being bolstered by Ephraim Owens on trumpet.
The only Jimmy Vaughan original is a cool, jazzy instrumental, "Comin' & Goin'", driven by the rhythm section of George Rains and the bass of Ronnie James, with some marvellous guitar work and sparring with the horns. Lou Ann Barton shines on "Wheel Of Fortune", a solo vocal here on this big ballad; the following Johnny Ace tune, "How Can You Be So Mean" swings like crazy, leading into the late, great Rosco Gordon's "Just A Little Bit", a copper-bottomed classic for sure!
Elsewhere other treats are the Ted Taylor song "I Miss You So", with Vaughan and Barton sharing the vocals; a trip way back to early Fabulous Thunderbird days for Guitar Junior's "Roll, Roll, Roll" and some Little Richard in the form of "Send Me Some Lovin'", and another superb vocal from Lou Ann Barton. The late Doug Sahm looms large in Texas music folklore – check out his "The Last Great Texas Blues Band" album if you can – and here we get an impassioned vocal from Jimmie Vaughan on his border-flavoured ballad "Why, Why, Why", with fine solo over the sparkling horn section.
A brief mention too is merited for some of the other musicians involved, Derek O'Brien and Billy Pitman on guitars, and Mike Flanagan on Hammond B3.
A cover of Willie Nelson's "Funny How Time Slips Away" brings this great album to a fitting close . . . a definite for all lovers of classic blues and r&b and tasteful playing from fine musicians and from one of the genre's finest performers in Vaughan, and lovely to see it released on a British label! Don't leave the next one so long Jimmie please.
GRAHAME RHODES