Review: L.R. Phoenix and Mr. Mo'Hell – Jumper On The Line
Posted on: Thursday, May 26, 2011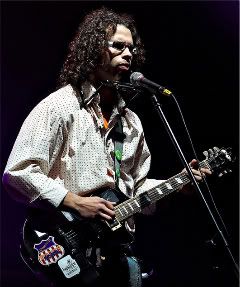 L.R. PHOENIX & MR. MO'HELL
"Jumper On The Line – the North Carelian Lake Country Blues of L.R. Phoenix & Mr. Mo'Hell"
(Home Brand – 750021)
With the hill country blues and fife and drum music of North Mississippi now being popularised by lots of fine bands and solo performers, here is an enjoyable collection from Finland-based British singer, writer and guitarist L.R. Phoenix, in the company of Mr. Mo'Hell on drums, and the occasional violin and vocal of Honey Lake  – three covers and nine originals from the pen of L.R. Phoenix.
The extended title of the album comes from the area of eastern Finland were L.R. Phoenix relocated to and where he met drummer Mr. Mo'Hell – who since this recording, he no longer works with. Together they deliver a no-frills, energetic set, kicking off with a pair of classic covers in the shape of "Shake 'Em On Down" and "Don't Want No Skinny Woman", which capture Phoenix's tough guitar sound and fine voice, and Mo'Hell's pounding drums.
The wry "I Swapped My Wife For A Used Coat", rides on a tough electric riff, as does the grinding "Boggy Pine"; the excellent "Freight Train" has a nice country blues groove with Phoenix's slide guitar pushed along by Mr. Mo'Hell's drums and the added violin of Honey Lake. The hill country blues is revisited on "Keep Your Hands Off My Woman", with some of that hypnotic guitar work that is evident in a lot of its exponents, with impassioned vocal . . . a highlight for me.
"Jumper On The Line", best probably known as recorded by R.L. Burnside is the album's only other cover, the version here a little faster but engaging; the deep blues of "We Got A Thing Going On" sees Phoenix's vocal shadowing his guitar lines, before the duo kick up a storm on the rockin' "Going To Memphis".
L.R. Phoenix returns to his slide playing on "90 Days In Jail", with more violin by Honey Lake – the tune having a feel similar to "Rollin' And Tumbling" – the closing brace of songs being the sparse "Truely", with possibly the best vocal of the album, and the lengthy and brooding "Watermelon Skies" . . . as the hill country blues of North Mississippi are brought to the lakes of east Finland . . . showing the universal appeal of this music!
GRAHAME RHODES
Comments Off

on Review: L.R. Phoenix and Mr. Mo'Hell – Jumper On The Line