Review: Diana Braithwaite and Chris Whiteley – Deltaphonic
Posted on: Wednesday, Nov 16, 2011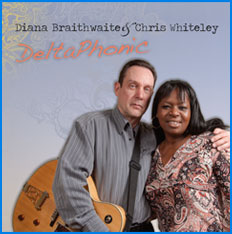 DIANA BRAITHWAITE & CHRIS WHITELEY
"Deltaphonic"
(Electro-Fi Records: Electro-Fi 3419)
Here's a delightful 'made in Canada' release from a pair of seasoned performers who have their roots on the 'other side of the border' . . . . singer Diana Braithwaite, who has her roots in Southern Florida, and multi-talented Chris Whiteley, Kansas-born but who moved to Toronto at an early age, and features here on vocals, guitar, harmonica and trumpet. The duo deliver an easy-on-the-ear 12 tracks of classic retro blues, ten of which are originals penned between them, and just two covers.
"Deltaphonic" is their third release for Electro-Fi and finds them in the company of a fine group of musicians, namely Mike Archer (bass), Lindsay Beaver (drums), Phil Skladowski (baritone saxophone), Jesse Whiteley (piano & Hammond organ), Jonathan Wong (tenor saxophone) and vocals from Kala Braithwaite on one track . . . the title of the album coined by Electro-Fi label boss Andrew Galloway to describe the sounds that combine to make this fine release.
Things get off to a nice start with the easy-rolling "Cool Cat", with Braithwaite's warm soulful voice and Whiteley's slippery slide guitar  and tasteful harmonica . . . it's a little reminiscent of the classic "Rock Me Baby", and some wonderful piano by Jesse Whiteley. The following "Twice As Good" kicks off with an Elmore James-inspired slide blast from Chris Whiteley's guitar and is another mid-tempo groove dominated by further slide and again featuring more sterling word by Jesse Whiteley.
Braithwaite puts a fine vocal performance into "Shake Blues", with the baritone saxophone of Phil Skladowski sparring with Chris Whiteley's harmonica and guitar. The duo and band take the pace down on "Don't Apologize" . . . with it's vintage Tampa Red / Sonny Boy Williamson feel, with Whiteley junior – Jesse – laying down more superb piano. The big band swing of "Midnight Stroll" sees the horns of Skladowski and Jonathan Wong to the fore, with some dynamite retro picking from Chris Whiteley, with him and Diana Braithwaite trading verses on the vocals, a standout track here.
The younger Whiteley swtiches to Hammond organ on the driving soul of "Good Luck Angel", with the band in a lovely groove again and tough solo from Chris Whiteley. A sparse laid-back cover of Tampa Red's is given due reverence on a faithful version, the duo again both taking a vocal turn and also singing together. The slow blues of "Border Patrol Blues", at 6:41 the longest track, sees the Whiteley boys stretch out, with Chris's fluid guitar shadowed by Jesse's tinkling ivories . . . again, an excellent band performance, pushed by the steady, but unfussy rhythm section of Mike Archer and Lindsay Beaver.
The album closes with a lovely Duke Ellington number, "It Was A Sad Night In Harlem", the  duo and band recreating a smoky 30s Harlem night, with jazzy vocal from Diana Braithwaite . . . a suitably fine way to end this most enjoyable release.
GRAHAME RHODES
www.braithwaiteandwhiteley.com