Gig: Ian Siegal & Jimbo Mathus – Goin' Up The Country at Worthenbury Village Hall: Friday, 14th November
Posted on: Saturday, Oct 11, 2014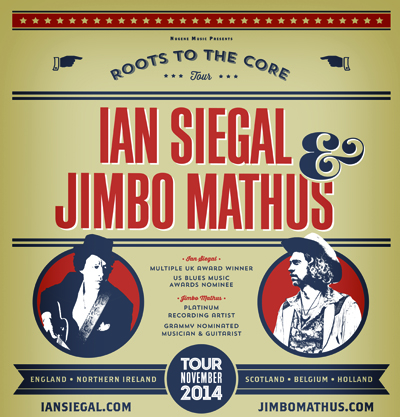 From Pete Evans:
This gig is arguably one of the most exciting acoustic ones that we have presented in our 18 years of presenting live music when one of the top roots/blues musicians from the USA teams up with arguably the UK's current top acoustic roots/blues guitarists.
Ian Siegal's stature has grown immensely over the last 7/8 years from being a regular on the British blues club scene to being in demand on the American festival circuit and to recording in the USA with some of the most respected southern blues musicians. His powerful earthy vocals are backed up by his fine acoustic and steel guitar and a great stage presence. Regulars will remember his superb gig at Worthenbury four years ago with Ben Prestage, the amazing one-man band.
Jimbo Mathus is from Oxford, Mississippi born into a musical family. University educated he studied Phiosophy, Latin and Theatre Studies but it was music that took over his life especially with his band The Squirrel Nut Zippers.
The band toured extensively during the 90s appearing at Bill Clinton's 2nd inauguration and The Atlanta Olympics whilst winning gold and platinum awards.
In the early 2000s he toured with Buddy Guy recording the album Sweet Tea and the Grammy award winning Blues Singer. Then in the mid 2000s he located to Clarksdale to open his recording studio, Delta Recording Service using authentic antique equipment. Amongst the 100s of artists using the studio was Elvis Costello.
In recent years he joined forces with Alvin Youngblood Hart and Luther Dickinson of The North Mississippi Allstars to form The South Memphis String Band and is a regular on the southern states blues circuit especially at Morgan Freeman's Ground Zero Club in Clarksdale.
The joining together of these two stars on this major UK and European tour is a marriage made in heaven and we are so lucky to have been offered this gig so please come along to support this unique moment.
Tickets £15 …. already attracting much interest.
For all gigs, please check availability first by mailing  petevans@btinternet.com or ringing 01948 770215. Cheques with sae to be made out to Hooker Blues Club and sent to Oak Cottage, Wallington Lane, Worthenbury, Wrexham LL13 0AL.